Apzi Ft. Clewz – Diwurannam
Ladies and Gentlemen-here's probably the boldest lady in the sinhala music scene right now – Apzi
While its not the worst track we've come across..this video well…you be the judge of it…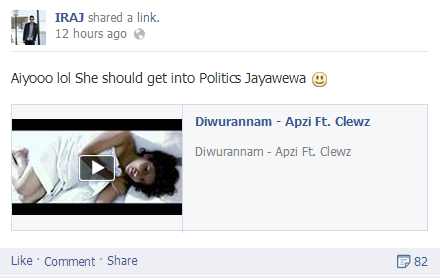 Iraj, Really? Why would you write this?.Sure, during the recent years a few females who have opted for it were jokes but this is no reason to make potential future female candidates who know what they are doing look like complete idiots to the rest of the world. We get the joke but you're better than this man.
Jayanga has been constant with his unique takes since he built his own home studio not too long ago and here's another one for the month. See how you dig
We think no one else could have added such a soulful feel to this single by le Ed. If you dig, dont forget to share =)
Year 9 of SLCG's e-Sport, Video & Comic Convention see's quite a few things go down and we had to catch up with the team to get you the scoop!