Stigmata Covers Independent Square's Classic "Anger"
we know we've reported about this eons ago but still is a noteworthy piece of news to keep tab of cuz of 2 factors 1.Independent Square is a band that inspired many Rock N Roll, Alternative & Metal Bands in this country and they are the godfathers of Alternative 2. Stigmata is covering them, and they too have the status of Metal Legends in our country and this cover is going to be on a very special edition of their remastered debut album "Hollow Dreams"…we cannot wait Suresh, now how about that radio interview we asked for?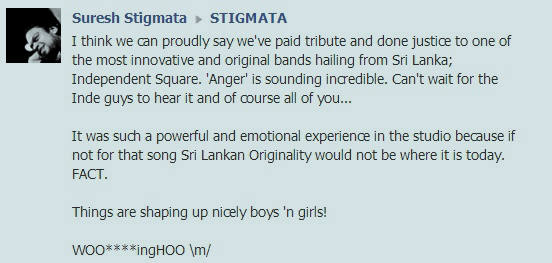 This 20 something year old, Canada based Lankan is back with another killer remix and this time around a future trap treatment of "Disarm You". We think this got a
Gampola based producer Daffy Maestro just dropped his first release for 2019 and it's everything and a little beyond from what we're used to hearing from him. Elements of atmosphere
This is probably their second Christmas single and while this too is a cover, it sure is brilliant!