Congratz To Dj Ruki!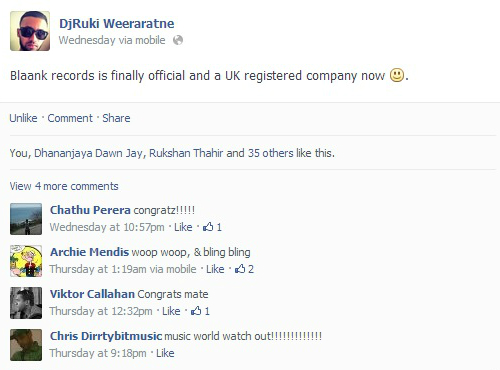 We know this comes a little late but like the ancients say "it's better late than never"
Looking forward to hearing some new tunes from ya! in-case you didn't know his collaboration with Viktor Callahan "Oblivious" not only got the Dropwizz remix treatment a few months back but both versions play on YES101, Sri Lanka's Number 1 For Home Music
Keep a tab on Blaank Records
https://www.facebook.com/blaankrecords
Check out "Oblivious" here
Here's a pretty fun offering by Ravi Royster that also features a few of his friends – Momo, Nuwanga Samarasinghe, Erantha Gamage Kularathna, Hewaarchicihege Roslin & Hewaarchicihege Wimalawathi.
The Sinhala hip hop movement has its own place down south and is a good thing. See how you dig this effort by a few from the region.
Sasith Gamage aka iClown released his first Ep for the year and its full of sonic gems. Released through High Chai Recordings, expect a few signatures and more of 'Woah,