Vote For DeLon!
We're STOKED for him!
and sincerely hope that you would help him bag this award.."Head High"a YES Home Grown Top 15 single got into the finals of the International Song Writing Competition.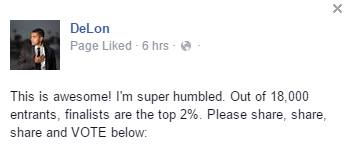 Word is that this cover simply is the next best thing to the original, dont take our word for it though..check it out and form your own opinion.
Its not everyday that you get to hear a bi-lingual rap (sinhala/tamil) but here it is…This debut by  fresher Young Hustler is produced by another new name in the scene Ayeshmantha
officially the second to get confirmed for this festival! yay to the fact that we have two lankan's playing for this world wide affair so make sure to clear your