Vote For DeLon!
We're STOKED for him!
and sincerely hope that you would help him bag this award.."Head High"a YES Home Grown Top 15 single got into the finals of the International Song Writing Competition.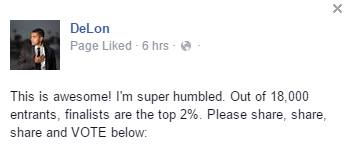 It's officially out! Here's the extended mix for you and frankly speaking we love the 80's feel that this track OWNS!
is by Ranidu! not only does he have another epic bailatronic remix but also this one saw its release on Steve Aoki's label "Dim Mak", support the movement by buying
We last heard of 'Street Light Mist' when they dropped their single 'The Scars Within' Ost : An Imperfection a year ago and we had to catch up with one