Vote For DeLon!
We're STOKED for him!
and sincerely hope that you would help him bag this award.."Head High"a YES Home Grown Top 15 single got into the finals of the International Song Writing Competition.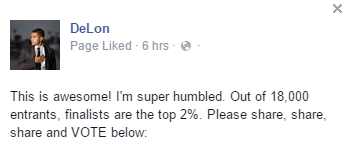 We are big fans of that awesome series and while this got us playing on repeat, it made us notice that there is a Lankan in this awesome group. Here's
if you missed out on the exclusive scoop on the YES Home Grown Top 15 last week, you would have missed out on this teaser as well as the "BIG
The very hard working manager of Wagon Park,,,hope you have the best one ever good sir!