Vote For DeLon!
We're STOKED for him!
and sincerely hope that you would help him bag this award.."Head High"a YES Home Grown Top 15 single got into the finals of the International Song Writing Competition.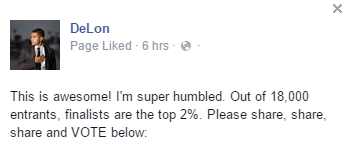 on this site, not only do we show our appreciation to artists and producers but also people who contribute in their own way to the scene. Imagination Inc run by
Now this is a rare thing…a single release on his birthday and its something that will make you have a few eyebrow raising moments too.
this Lankan Tamil is simply something else altogether, the only regret is we only just discovered her..check her music out cuz you will eventually forget that the stop button existed!