Unscripted To Drop New Material Today
It wasn't too long ago that rapper KK dropped this and while no time has been mentioned, we reckon this would drop around the latter part of today.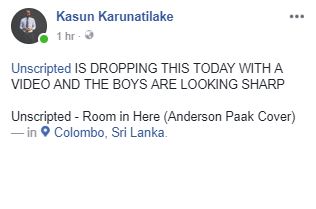 The band also celebrates 24 weeks on the YES Home Grown Top 15 with their hit single 'Desire'. 
Here's a remix of that viral hit that dropped during the weekend by YUKI, see how you dig this. 
the very cool drummer of Stigmata, have the best over ever man! we also wish you tons of beer and whiskey, all today long =D
Released on the 12 of October, Rick Pier O'Neil's Ep 'Landscape' contains 2 progressive ouse gems and a few remixes that are too awesome to not go unmentioned. One of them