Unscripted To Drop New Material Today
It wasn't too long ago that rapper KK dropped this and while no time has been mentioned, we reckon this would drop around the latter part of today.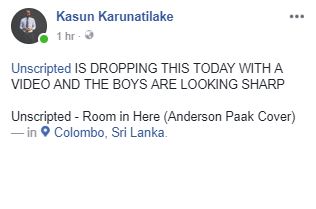 The band also celebrates 24 weeks on the YES Home Grown Top 15 with their hit single 'Desire'. 
Sunj Bandara of 'Diamond Girl' & 'Say You Love Me' fame is back this year on YouTube and for good, as the singer plans on keeping things constant on his
we had the privilege of listening to this remix before it got released and we think its pretty unique…what do you think?
You might remember this gospel group for their YES Home Grown Top 15 single "My Everything" And in an exclusive chat with Subodha recent, he spilled that their latest single