Unscripted To Drop New Material Today
It wasn't too long ago that rapper KK dropped this and while no time has been mentioned, we reckon this would drop around the latter part of today.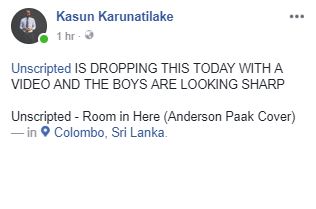 The band also celebrates 24 weeks on the YES Home Grown Top 15 with their hit single 'Desire'. 
It's been a while since the video announcement was made with the teaser Tomorrow is when it drops on his Youtube channel, stay subscribed
Now here's a take no one saw coming! An almost all female take of that neo classic from the Attalage camp. A must check out!
We guess it pays off to go on random Soundcloud hunts..while we don't know much about this singer from Kandy it seems like he has been performing at the Melomanic