Unscripted To Drop New Material Today
It wasn't too long ago that rapper KK dropped this and while no time has been mentioned, we reckon this would drop around the latter part of today.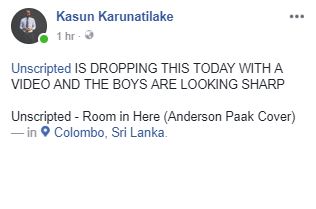 The band also celebrates 24 weeks on the YES Home Grown Top 15 with their hit single 'Desire'. 
and we have a feeling we might be hearing him on it, literally..him..singing! till he releases, here's a track we absolutely love any given day of the week!
we completely missed out on wishing him but like the old say, its better late than never…have the best one ever Shehan (ex R.A.G.E) photo credits:Malinda Rathnayake support an independent
Intense, good listen is what the single is The combo of metal and Drum N Bass has never sounded this good and we think this is another first from