Ravin Ratnam: Nothing Else Matters (cover)
So whats the big deal about this cover? Its a one man effort..from recording to producing and if thats not impressive, he's the man behind putting the video together too!
While Ravin's been doing this for a while now, we think this is one of his better covers like "Evenflow" which wasn't too long ago but before you check that out..here's his take of Metallica's classic.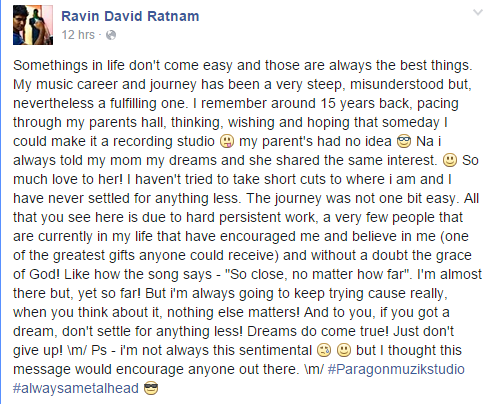 Released only 24 hours ago, the collaborative effort which features international vocal superstars Chinggy, Neha Kakkar, Yama & Tony T has reached number 1 on YoutubeLk's trending list while simultaneously
We were not there to witness one of the biggest Black / Extreme Metal gigs this year but we're glad Mathawaada and a few awesome people were able to capture a
Rocker Javeen Soysa (ex Trantrum) & Vithma Kumarage (YES Super Star Season 3 fame) are back and this time with this really cool collaborative cover effort.