Piti G No Longer With Stigmata
This comes to us as a complete shocker too cuz hey, who saw this coming? Especially since this year marks 15 years of the band's existence in the metal scene. No announcement of a replacement drummer yet but we're keen to know who the next name is.
Thanks for the good memories Piti G, you will be missed!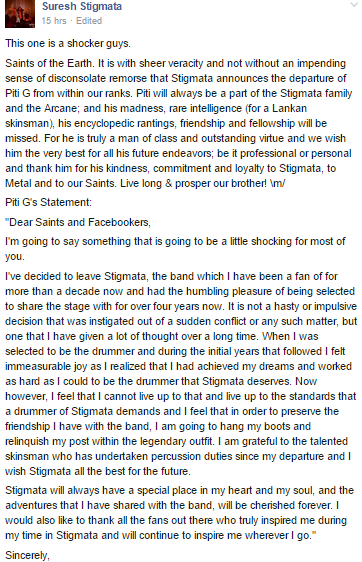 Check out the full statement & fan reactions here
photo credits: Samitha Eshan Siriwardena for CulteRAW
always support an independent photographer by recommending their work
It's being shot currently at a bunch of undisclosed locations with director Anil Balasuriya and we've been promised some exclusive behind the scenes photos! (there's one more person involved but we're keeping his name
Now, this is a surprise we were not expecting to find on our newsfeed this morning…a pretty interesting Dubstep take of that insta.classic by one of Sri Lanka's best guitarists
And it's not a single everyone expected..just check that status out This calls for a rewind to when the original played every place you can imagine in Lanka Land.