Piti G No Longer With Stigmata
This comes to us as a complete shocker too cuz hey, who saw this coming? Especially since this year marks 15 years of the band's existence in the metal scene. No announcement of a replacement drummer yet but we're keen to know who the next name is.
Thanks for the good memories Piti G, you will be missed!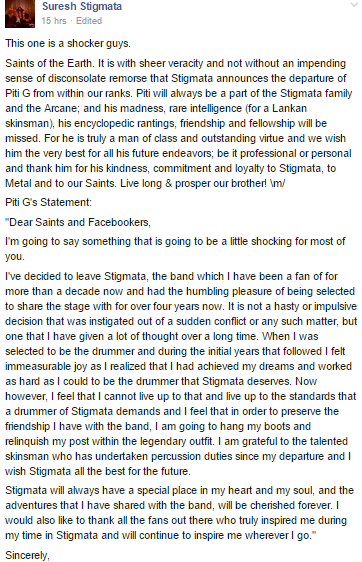 Check out the full statement & fan reactions here
photo credits: Samitha Eshan Siriwardena for CulteRAW
always support an independent photographer by recommending their work
Janani by the looks of it is working on an Ep called "They Call Me Cleopatra"and this is only a teaser of what's to come..no word on a release date.
While there's a bit more work to put into this track, we think it sounds like something you'd hear on a movie score, hence its up here..check it out already.
This collaborative remix of "Dragon" with Savagez is simply too good…we're calling it "that" sonic insta pick me up! Find out why