Piti G No Longer With Stigmata
This comes to us as a complete shocker too cuz hey, who saw this coming? Especially since this year marks 15 years of the band's existence in the metal scene. No announcement of a replacement drummer yet but we're keen to know who the next name is.
Thanks for the good memories Piti G, you will be missed!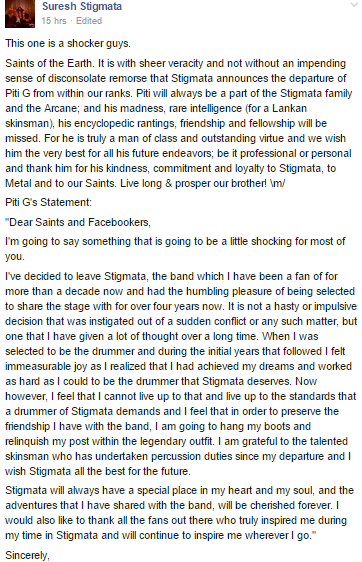 Check out the full statement & fan reactions here
photo credits: Samitha Eshan Siriwardena for CulteRAW
always support an independent photographer by recommending their work
its always an awesome thing to know that you share your birthday with some very cool people from the scene: DJ Yazz, Kusal Tharindu (Manifestator) , Andrew Obeysekere (Stigmata) &
it's the second cover we've come across of this hit and we'd like to thank Dineli Sun (that awesome female beatboxer) for sharing this! check it out, you just might
Youtuber Stephani Sansoni dropped this pretty neat mashup of two classics a few hours ago and we think this is very quintessential her!