K-Mac's "Colombo" Hits A Record For A Sinhala Rap Video
Let's face it Sinhala rap isn't really the one of the popular genres from the island but one things for sure, it's building a following and that is one of the best things we reckon to happen in a while…plus this ain't the cheesy "ima hit you up with my swag" bull, this IS honest..from the heart stuff. You'd understand if you know the lingo, check the track out here and K-Mac, congratz on this feat man, long live good music!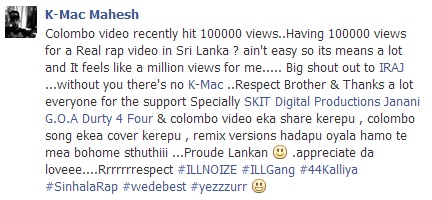 Now, this takes the cake for the best video of the week! Not every video get's captured in such an amazing, fast paced theater setting and this is something we
Jason & Julian are back with this – their take of a "Have Yourself A Merry Little Christmas" with a home made video too.
Ladies and Gentlemen, The first single in a very long time is finally out and what's our take on it? This is not even close to where the band left