K-Mac's "Colombo" Hits A Record For A Sinhala Rap Video
Let's face it Sinhala rap isn't really the one of the popular genres from the island but one things for sure, it's building a following and that is one of the best things we reckon to happen in a while…plus this ain't the cheesy "ima hit you up with my swag" bull, this IS honest..from the heart stuff. You'd understand if you know the lingo, check the track out here and K-Mac, congratz on this feat man, long live good music!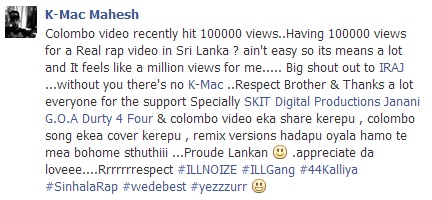 Costa is back with his long term collaborator – Tom Alfons, together with Walt Miguel & DJ Stards and yes, this one is for the books.
Looks like there's gonna be 3 videos to watch out for in the coming weeks and we don't know too much deets on this but will get you the scoop
It's not everyday that you get to hear some pretty raw, in your face, honest lyrics. but hey, this single right here is something and it features 2 freshers from