K-Mac's "Colombo" Hits A Record For A Sinhala Rap Video
Let's face it Sinhala rap isn't really the one of the popular genres from the island but one things for sure, it's building a following and that is one of the best things we reckon to happen in a while…plus this ain't the cheesy "ima hit you up with my swag" bull, this IS honest..from the heart stuff. You'd understand if you know the lingo, check the track out here and K-Mac, congratz on this feat man, long live good music!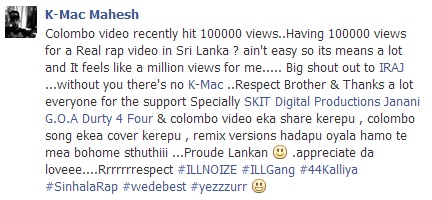 Mr. producer and his awesomely talented fiancee will be on the show to co-host and all that this week, Thursday at 8pm..make sure to tune into YES101. here's THE single
Niranjan Bibile has been busy and apart from working on his 3rd solo single with Pasan Liyanage, he's been working on a few covers and here's his take of a BnS classic.
This Australia based Lankan sure has been breaking ground since she started promoting her debut single off "What U Want" not too long ago this year. Here's a short interview for