Imaad Majeed Vs Larry T Hill: Results
And the result is………………why were you not there yesterday to witness this in person?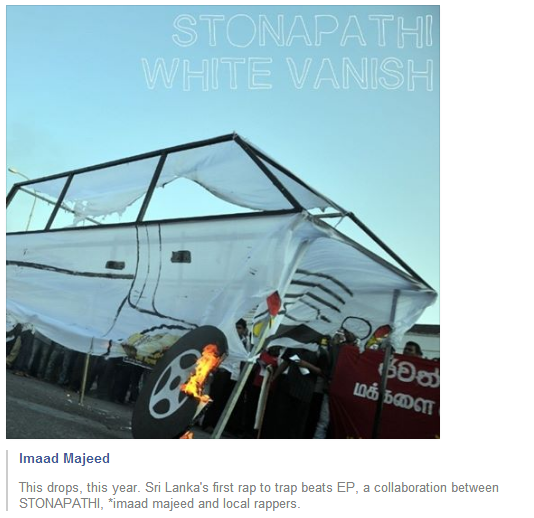 Vino Defeato (Vintage 2014)
He is light in water, feet heavy on land,
toes curling in the roots of his belonging,
finding himself across continents,
climbing sails, wading waves,
a Taprobane tan on the back of his hand,
he knows his colour and its ethnic marker
better than an FAQ or a saadhu's mantra.
Hilarity for namesake, there's no such thing
with this cat it's all gags, goofs and laughs,
he gets a crowd going with his zippity-zap.
back and forth, this and that, bmmshk-chika-bmmshk
echoes the duk-duk of a tuk-tuk heart,
sports no tattoos but the decals of wisdom
are penned to paper, reflections, recollections,
he's not one to be ungrateful, always aware
of what he owes to the world, the universe,
that sacred balance of karma works in his favour,
he's got an ear for conspiracies but only because
they conspire towards his will.
Humble, gentle, ready to pounce when invoked,
he's a pretty decent guy, yeah,
I'm leaving all jokes
aside.
– Imaad Majeed
We've been told that videos have been taken and would be uploaded soon, await await!
Released on Sunday, the duo behind Balanawanam balapan are back with his pretty neat mashup of teledrama themes with guest vocalist Pooja Parami. Have they changed their group name? Only for their
There's something about Uk based Saphron's music that makes you wanna hit that play button all over ..here's out pick off her debut Ep "Changing Seasons"
Producer Dasa just gave that instaclassic by Ravi Jay & Charita Attalage his future bass twist and we think this is all kindsa cool.