iClown Announces New Material
About time we heard something from this fella who used to put out tracks almost every week. No word on whether "Round One" would be a djgent or a dubstep effort but one things for sure, we're all gonna checkin it out on the 7th.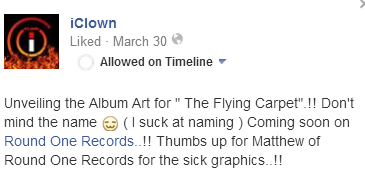 One of the few rappers from the early days Chathuranga Perera, the father of Sinhala Dubstep, Pasan Liyanage and the bassist of Ablaze, Saveen Makalande ·..have an awesome one you three!
Last Friday saw a bunch of die hard Chris Cornell fans gather at the One O Six (Bernanrd's) for a tribute gig unlike Colombo has ever seen. We missed out
Dear i-Clown, we love this post and hope it will turn out to be another Number 1 for you! looking forward to his remix of E.D.M. City's theme which is