iClown Announces New Material
About time we heard something from this fella who used to put out tracks almost every week. No word on whether "Round One" would be a djgent or a dubstep effort but one things for sure, we're all gonna checkin it out on the 7th.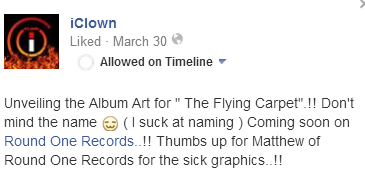 We recall this track being one of the biggest from 2005 and used to be a regular on Sun Fm's playlists, TGIF Lanka! Fact: this was co-produced by the late
this is so avant garde, we don't think we'd be able to keep the play button off when it's out officially! If you want to pre-order the album, go here: fofmusic.bandcamp.com/album/bizarre-ep
A few days later after the teaser drop comes the single and its quintessential reggae from the island.