Eranga Jayawansa Has A Single On Vandit Records
You might remember this producer for his very popular ethnic rnb remix of "Clarity" from last year and it just so happens that this year just might be his biggest yet as his latest single ft Tricia McTeague "Welcome Anymore" will be released through Paul Van Dyke's label "Vandit Records". #AnotherFirstForSL!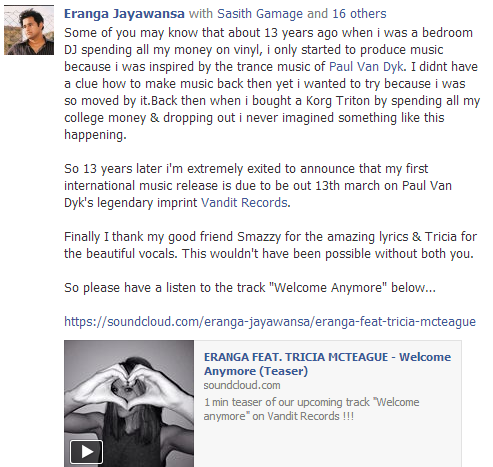 We know you can't wait, click already!
Doesn't matter where you're heading today..the lush green outskirts of SL or the gray corporate jungle of the greater colombo..here's a nice lil mash-up to start Tuesday off, this one is by
As the days near to Moving Out (Hikkaduwa) which is an exhibition featuring some stellar sonic art, land art, print art & video installations by artists who are part of
The Drill Team are back after quite a hiatus and this is there muchly shared poetic offering that dropped last night.