Congratz To Shiran-Ta On His 4th Number 1!
and that is a new record set on the countdown as this Dj & producer has 4 demanded for singles on YES101
from his debut, Arugam Bay ..

To the very Lankan-ish/Paduru Party theme sounding Bajauwa
From the strange Chinese chants in ..Karma
and now, Funky Fish ..the one single thats got the audio report of fish rain that happened a few years ago.
We wonder who'd be up to break his record now =D
Dropping out of the countdown was rapper Markia – Fly Away (Luvin U) and checking is at 14 was Delvin Hindle with his debut "Wish You Were Here"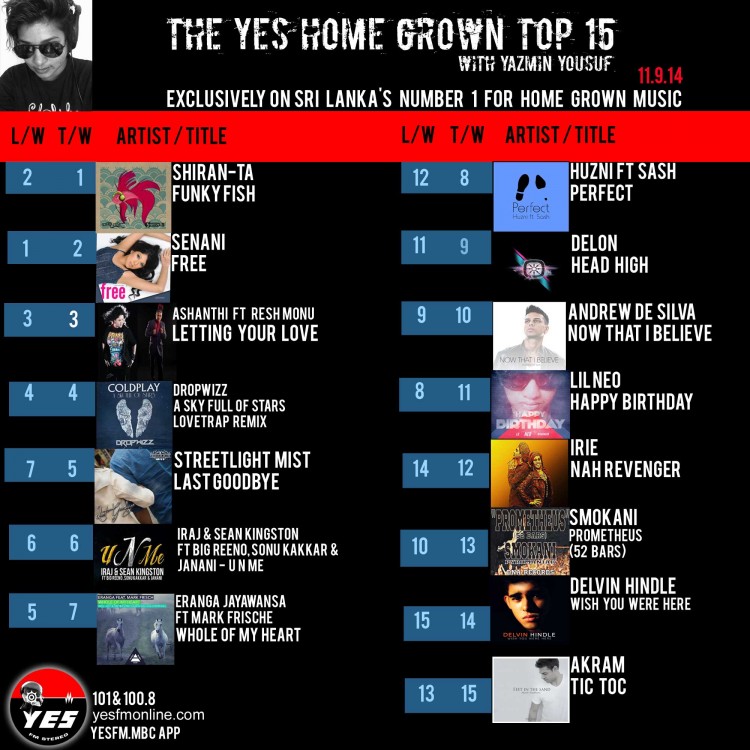 He sure is one of the few beatboxers around who can execute mad technique, the variations on this video are insane! If you've never seen him live..this video will make
Rapper Master D  has been active since the start of this year and here's his latest drop, an interesting offering titled 'Amba Sewana'. 
After teasing for quite a few weeks, the stellar audio which was produced by Kasun Nawarathna & video by Meraki is out! Stigmata's 'Heavy Is The Head That Wears The