Cologne Jeewantha Announces New Music
And the official announcement is here…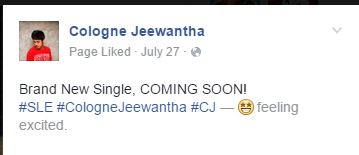 There have been rumors that it might be a Sinhala effort from the Kandy based singer behind  the YES Home Grown hit 'Not Easy'. Not familiar with the single? check it out here.
Here's another podcast released less than a week and we're loving this already! Turn up the volume cuz this one is made for the holidays!!!! Tech Theory Volume 1 http://official.fm/tracks/ZIG4
Producer Nisho Fernando is back and this time around, with the kind of sound that he's been getting into for a while now – techno. Released by R3sizze Records, get
Producer Deyo & Janani have always made a terrific work team and this cover just oozes of some great sonic deliver and sharp production skills even though its a cover.