Bachi Susan Has A New Track Comin Out
And we love this announcement right here!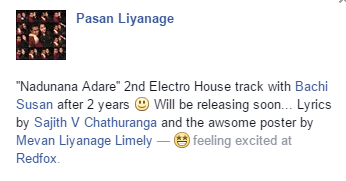 These two have amazing dynamics and in the past have put out some stellar singles including this one from a few years back. We decided to post the remix version cuz everyone's heard the original.
Produced by Pasan Liyanage, this single got it's own lyrics video in Sinhala not too long ago.
Released thru Faith & Hope Records, here's a seasonal original by Chithru (TNL Onstage fame)..here's more deets on the single.
see we heard that it was more than a rave and a half for everyone at the fest this year and DJ Shiyam posted his set from that date a