Bachi Susan Has A New Track Comin Out
And we love this announcement right here!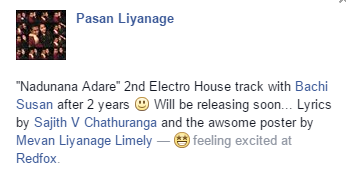 These two have amazing dynamics and in the past have put out some stellar singles including this one from a few years back. We decided to post the remix version cuz everyone's heard the original.
she sure has one of the most unique voices for a female on the radio and on stage..have the best one ever Raajnie
For some reason this is very reminiscent of an ancient Sting song..almost like "Englishman In New York" cept its not really that. A nice little love song that could be
And this hotly anticipated single by the band is scheduled to drop on the 8th of the month. Here's the teaser for it Sri Lanka!